Ultimate Cricket Fans XI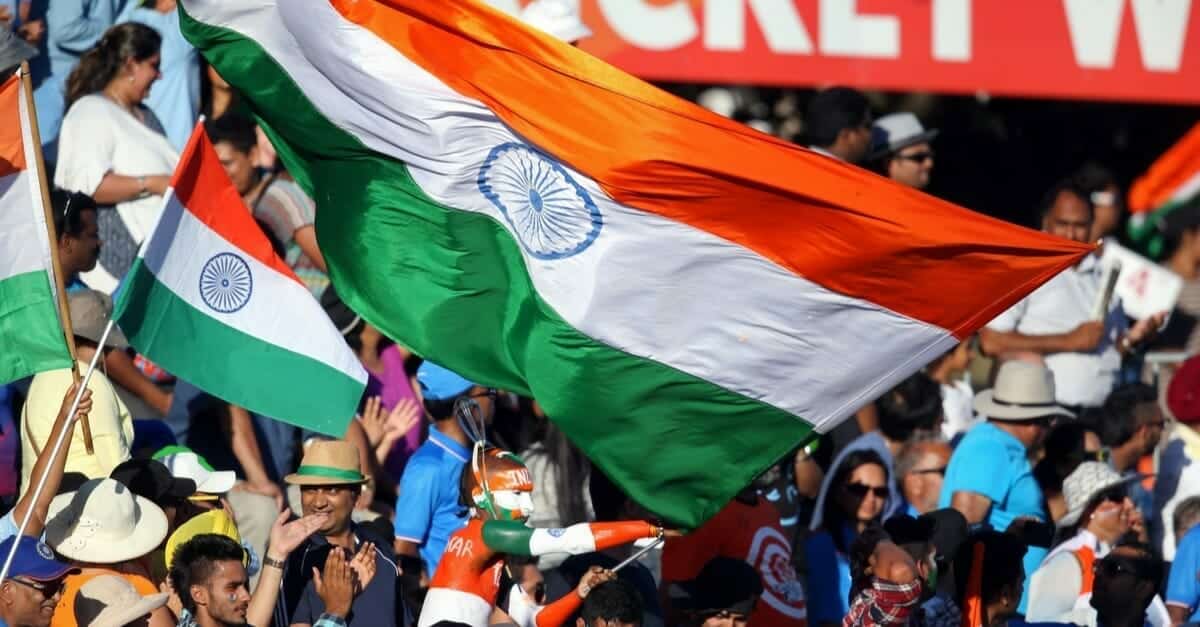 Cricket fans are famous for taking their sport seriously.
Crazy, colourful and passionate people, who follow the sport religiously, and in their millions. They are undoubtedly a major factor in the continued success of the sport.
Cricket's lot is overflowing and brimming with passion. Fans live for the sport's ebbs and flows, twists and turns, from ball to ball, session to session. It's enthralling, pure, stressful, nerve-wracking and romantic all at the same time. What's not to love?
Fans make the game what it is. They don't just appreciate the sport. They cherish it, quirks and all. But what makes these fans 'super'?
From leprechauns and conch blowers to dreadlocked cross-dressing dancers and guest-listing it at Virat Kohli's wedding, Cricket Bet India takes a look at cricket's colourful super fans, the rabble rousers-in-chief, those who's love of their national side is unflinching.
1) ChaCha Cricket (Uncle Cricket) – Born in Sialkot, Punjab on October 8, 1949, Chaudhry Abdul Jalil is regularly seen at Pakistan fixtures and is one of the most dedicated supporters of the national side.
He has in excess of 50 years' experience of following Pakistan. Geoffrey Boycott believes Chacha Cricket brings life to cricket, Sunil Gavaskar says Pakistan is lucky to have him. Who are we to disagree with either.
The father of five sports a white beard, full green kurta dress and a white cap decorated with a sequined star and crescent moon.
Jalil, who worked a well paid job as a truck driver for the forestry department in the UAE, rose to prominence during the Austral-Asia Cup in 1994, mainly on the back of his unique attire. The PCB moved quickly to secure his services as the national side's cheerleader-in-chief, on a full-time basis, and after moving back to Pakistan he became synonymous with initiating chants like 'Pakistan Zindabaad' and 'Jeetay Ga Bhai Jeetay Ga' and 'Pakistan Jeetay Ga'.
Such is his profile, the 71-year-old was forced to release a video message on social media recently in a bid to quash rumours of his passing.
2) Barmy Army – The Barmy Army is a group of English cricket fans, which was founded by three friends – David Peacock, Paul Burnham and Gareth Evans – who travelled to Australia for the Ashes series in 1994-95.
The name 'Barmy Army' was given by Australian media as the tourists never stopped chanting for England, irrespective of the side's good or bad performances.
The mighty, mighty, world renowned Army has morphed from an informal group of around 30 backpackers, who printed 50 T-shirts to sell on day one at the 1994–95 Ashes Series, to a registered company in England and Wales, who want to 'make watching cricket more fun and much more popular'.
They're now a one-stop shop for all your England cricket needs with plans to expand into other sports. From tour itineraries, tickets and merchandise, to content, events and fundraising, the Army continue to represent a spirited soundtrack to England's overseas Test exploits; a group of quintessential cricket badgers with a penchant for witty song writing, and cheering the efforts of their team.
They pride themselves on having a presence at every game, spending millions watching England at home and abroad; from 10,000 plus at the MCG and SCG for the final two Ashes tests to 50 loyal foot-soldiers in Abu Dhabi to watch the Pakistan Test.
Rain or shine!
3) Sudhir Kumar Gautam – a man who embodies Indian cricket.
The former teacher wears the famous tri-colour with pride, his slender figure adorned with body paint that reads 'Tendulkar 10'. He hasn't missed an India home match since 2003 and regularly appears in newspapers and magazine adverts in his home country, where he has acquired celebrity status.
Sudhir has blown his conch with pride right across the globe and is well used to attention – he's regularly mobbed for selfies. That doesn't mean he enjoys the fame, in fact it's quite the opposite. The 39-year-old, who lives in Muzzaffarpur, Bihar, with his ageing parents and his older brother's family, is well used to a lonely life on the road. He's even cycled across states and travelled from India to Pakistan and Bangladesh to watch Sachin Tendulkar and India play.
He's widely regarded as one of sports most iconic fans, having attended 319 ODI's, 66 Test, 73 T20s, 68 IPL and three Ranji Trophy matches, but who's counting?
A mainstay in the stands since 2001, here is a man who thinks nothing of spending four hours at the painter's on gameday. And it doesn't stop there, he was also the subject of a documentary looking at the phenomenal following of Indian cricket, the depth of his involvement in the game cannot be doubted.
Anyone with a passing interest in the sport would recognise him in an instant, the cameras regularly fixated on him as he waves the tri-colour furiously in the searing heat.
Perhaps the pinnacle of his supporting career was being invited into the dressing room and being pictured with Sachin Tendulkar after the ICC World Cup win in 2011 – more headlines!
He's been to Bangladesh twice, Pakistan, as well as the 2015 World Cup in Australia and New Zealand at the behest of his beloved Tendulkar.
4) The Bharat Army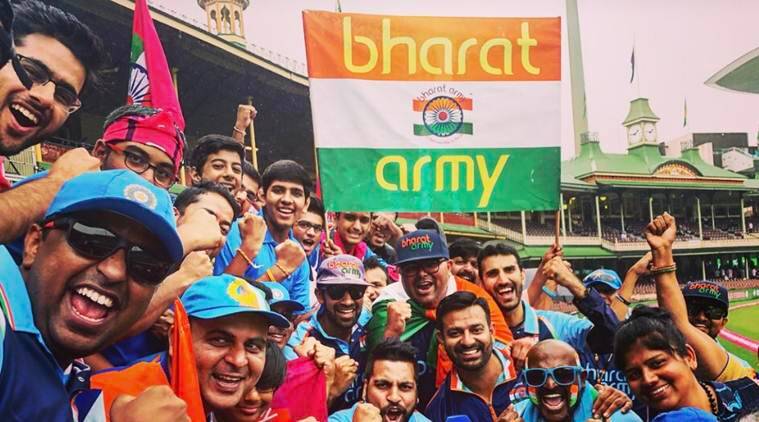 For Indian cricket fans the sport is nothing short of a religion. MS Dhoni, Anil Kumble, Sachin Tendulkar and a whole host of other greats have transformed the game from a much loved pastime to a household sensation. Cricket is at the forefront of almost every Indian's mind.
Channelling the swatches of enthusiasm the nation has for its national team is the Bharat Army, founded by Rakesh Patel.
Then in his twenties, Raks arrived to watch the match between India and Pakistan in the 1999 World Cup, quickly noticing the dismal turnout from his fellow countrymen in the stands. So he decided to do something about it.
Much like the organic growth of the Barmy Army, and there have been points of collaboration with good pal and Barmy Army Managing Director Chris Millard, the Bharat Army now represents the voice of Indian cricket supporters. Tickets, travel, accommodation, news and events, the Bharat Army is now a professional enterprise with 20 employees across three countries.
By-in-large, the Bharat Army accounts for a third of the spectators at every single India match, wherever that might take place.
For Patel, who has travelled the world supporting India for over 30 years, perhaps the organisation's high point came when over 8,000 fans from over 22 countries descended on the UK for the ICC 2019 Cricket World Cup – job done you might think.
But just like his English oppo, Patel has grand plans to grow the Army commercially, but with the basic principles of turning out to support India, wherever in the world they're playing and whatever the sporting context, at its very heart.
5) Percy Abeysekera – The indomitable Sri Lankan fan – quite literally a one man band for the Sri Lankan national side.
Arguably, he's the most iconic cheerleader the game has ever had. This devout fan has travelled great distances to wave the lion flag.
Having watched over 1000 matches in total, since well before his country achieved Test status, his name is etched in cricket supporting folklore. He's the very embodiment of the lion on the Sri Lankan flag.
Ever since watching Arjuna Ranatunga's side win the 1996 World Cup title, Percy, the most famous non-playing Sri Lankan at a cricket ground, has suffered heartbreaks at Bridgetown, Lord's, Wankhede and Colombo as his team lost four of four finals at World Cups.
Percy, who turns 85 this summer, has become ingrained in the national setup's DNA. An extension of the team, if you like. From dancing on board an aeroplane with Sir Garfield Sobers, on the way back to Colombo after the 1983 World Cup in England, to saving the same man's life, when a mob wanted to set fire to his car during the height of the 1983 riots.
Even his grandchildren bear resemblance to his beloved sport and cricketing icons. Avinka Garfield is named after Sir Garfield Sobers and Sachinka after Sachin Tendulkar.
"Till I can walk, I will be at stadiums cheering the boys and waving the Sri Lankan flag."
6) Gravy the Entertainer – Gravy, born Labon Kenneth Blackburn Leeweltine Buckonon Benjamin in 1955, is a former entertainer, famous throughout the cricket world, for 12 years of voluntary entertaining of the crowd at the Antigua Recreation Ground in St John's, Antigua.
From a small platform at the front of the Double Decker Stand, Gravy entertained the crowd with a variety of costumes and performances. He was as much a part of the island's cricket than anyone on the field.
A colourful extrovert, Gravy never received a penny for his antics. Instead he relied on sales from his gift shop in St John's.
It all began when he seized the opportunity to wow the crowds from a presentation podium during a rain delay, or so the story goes. And Sir Viv Richards once told him, "keep on doing it, cause the world is happy when you do it," it continues!
Gravy, who marked the end of his cheerleading career in some style by parading the outfield in a wedding dress, now runs a hardware stall in St John's and, in a life worthy of big screen adaptation, was even shot in the arm while driving, in an apparent case of mistaken identity.
7) Shoaib Al Bokhari
This Bangladesh fan is a Motor mechanic by profession. An intrepid soul who can cheer for Bangladesh all day, irrespective of whether he has somewhere to stay lined up, where the next meal will come from, or what the extreme weathers of the subcontinent can throw at him next – cricket is all that matters.
Affectionately known as Tiger by the Bangladesh players, he manages to secure much of his accommodation through acquaintances he has made along the way, and has even been known to sleep in the garages of fellow mechanics. His tight budget means that his address book gets regular use, as he sofa surfs his way around the world.
This Tiger possesses incredible vocal strength, or should that read 'an incredible roar', often heard chanting the names of his favourite players from the stands.
Shoaib, very much a Jeckyll and Hyde character – generally quiet, polite and unassuming, but re-incarnated when the paint is layered on – is the son of an Imam from Dhaka and he openly admits his family are only just beginning to tolerate his reputation, so long as the paint is washed away before he arrives back at their doorstep.
8) The Richies
Honouring the great man himself – former Australia all-rounder and then highly-regarded commentator Richard Benaud – on Day 2 of every Australia Test match.
There will never be another Richie Benaud, but thanks to a couple of creative Aussies the legacy of the former Australian captain and commentary genius lives on.
No jacket, no ticket! Strict dress regs aply!
No anti social behaviour. Honour Richie Benaud, enjoy the cricket, & have a great day.
With Benaud's Channel 9 contract on the line, a group of 10 mates decided to take action – cue beige jackets and silver wigs pouring down the aisles of Australian cricket grounds.
Channel 9 microphones were waved in the air, Dave The Sax serenaded the group with the channel's theme tune, songs were hastily drafted and belted out late into the afternoon, ever since that fateful day in 2009.
The Richie's, who make no secret of their ambition to give the Barmy Army a run for the money, MUST speak into their microphone for the duration of a day, which starts, and ends, in a hand-picked local watering hole.
9) Mohammad Basheer Bozai – aka Chacha Chicago, was regularly seen at matches between arch-rivals India and Pakistan, but followed his idol MS Dhoni into retirement, aged 65, last year.
Indian-born Bozai, married an Indian woman, before settling in Chicago, and is one of the rare people who neutrally supports both India and Pakistan. But that comes with its fair share of flak – which at times took its toll.
He was first recognised during 2014 World T20 and then became famous during 2015 World Cup, with Indian great Dhoni regularly giving him tickets to matches.
The MS superfan, who survived three heart attacks and criss-crossed the globe to watch his idol in the flesh on numerous occasions, enjoyed a close relationship with the World Cup-winning captain, ever since Dhoni organised a precious ticket for the semi-final between India and Pakistan in 2011.
He was often spotted in a shirt; half in Indian colours and half Pakistan, but on occasion draped himself head to toe in images of MS Dhoni, effectively becoming a walking photo album, or shrine, to the wicket-keeper batsman.
10) Gayan Senanayake – Hailing from his home town of Kalubowila, Gayan was diagnosed with deformities at age five, but what he lacked in size, he more than made up for with noise – both he and his famous support act Nilan.
Happy-go-lucky Gayan has clocked up 20 tours to date, every one since 2013, with two IPL's under his belt.
Back in 1992 he took in the third ODI between Sri Lanka and Australia at Kettarama, but it was from 2001 when his passion for the sport and his national side really sky-rocketed.
Gayan has enjoyed overseas trips courtesy of Jayantha Dharmadasa, with additional financial contributions from Mahela Jayawardene, Tillakaratne Dilshan and Muttiah Muralitharan – his efforts were appreciated.
The Popular Sri Lankan super fan, who is no stranger to long-haul flights and overnight sleeper trains, despite his disabilities, has also enjoyed dinner with Virat Kohli, Harbhajan Singh and Stuart Binny back in 2015, earning a place on the guest list for Virat's glamorous Mumbai wedding in 2017.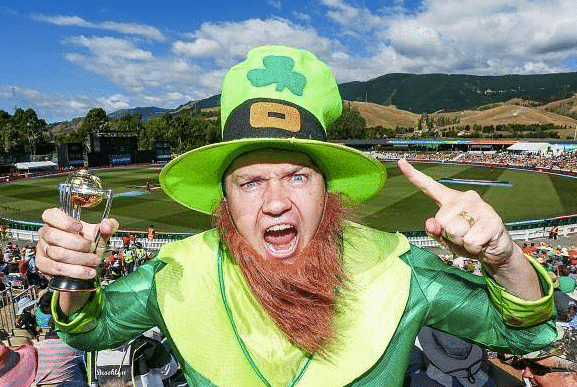 11) Larry the Leprechaun – Larry and his son Lil Larry, are also novices by comparison, but this pair's backstory is no less bonkers.
Larry, an Irish-Australian professor of taxation named Adrian Rafferty, is a fully paid up member of the Blairney Army, considers himself the Emerald Isle's unofficial 12th man and has provided the men in green with vociferous support from the stands since their courageous, but ultimately heartbreaking, 2015 ICC Cricket World Cup campaign in the West Indies. Nevertheless, it has been an enjoyable journey to semi-stardom.
Final Over
From Adrian Walton, who has travelled the equivalent of ten times around the globe watching England, spending £250,000 in the last 25 years, to relative newcomers like #Travellingroo, the distinctive Kangaroo-costume-wearing cricket nut Carl Teusner, and Ram Babu, who lives in the reflected shadow of MS Dhoni, as is the passion bordering on madness of Indian cricket fandom.
The obsession runs deep and it seems the sport's grip is inexplicably hard to escape once it establishes roots. Why do they do it? What drives them? Why do they keep coming back? In a word – passion, but on a scale we mere sports fans will never fathom.
Comments (1)