Here on Cricket Bet India you will find all the latest match predictions and tips, as well as exclusive free bet offers from our partners to help you bet on cricket.
There is details on how to claim the best free bets, the opportunity to read important bookmaker reviews and user guides so you can make the most of the important trends to look out for and – of course – all the latest tips for the biggest and best cricket tournaments on the planet, including the Indian Premier League, Big Bash, World Test Championship and T20 World Cup, plus many more!
Cricket Bet India provides you with the information you need to make selections by providing regular cricket betting trends and predictions in order to give you the best possible chance to make more money. Through our analysis of the latest facts and figures we will provide you with in depth pre-match previews for all the important games with all the relevant stats and data laid out, covering every series and every tournament, Cricket Bet India is with you every step of the way.
Through our historic data and in depth analysis you'll see which teams perform well against which other sides and who the in form batsmen and bowlers are. Cricket Bet India provides the latest news and views from the cricket betting industry, including cricket regulation in India as well as updates to rules and regulations.
Here at Cricket Bet India we select the best free bets from the world's top bookmakers and make them available to our customers. Free bets are offered by bookmakers to new customers when they sign-up but are also often offered to existing customers, specifically around big sporting events.
To get access to free bets you simply have to visit our page of exclusive free bets from the best bookmakers on Cricket Bet India, follow the link to sign up to the bookmaker via their site and once you have followed the sign-up process your free bet should be available to you immediately.
The type of free bet offered by bookmakers can differ from bookmaker to bookmaker but can include such free bets as betting a certain amount of money to get another amount in free bets (Bet £10 to get £ in free bets), or risk free first bets, a welcome bonus in free bets or even a promise to match the value of a customer's first bet. When it comes to bookmaker offers, a lot of terms and conditions can apply such as the requirement for a first bet to meet minimum odds or for a first bet to be a certain amount.
Don't worry if things become a little bit difficult to follow, we'll be with you every step of the way to offer guidance and advice on how to understand and make the most of all the fantastic free bet opportunities on Cricket Bet India!
New customers can take advantage of a number of free bets, here are a selection of the most popular free bets available from bookmakers.
Matched Free Bets – One of the most popular free bets offered by bookmakers to new customers. This free bet means that the bookmaker will match the amount you place on your first bet in the way of a free bet. On rare occasions, some bookmakers go beyond matching your bet and may even offer you better incentives.
Bet Refunds – Once you have placed a bet with your own money, you can have your money returned if you lose. The returned money can sometimes be re-credited in cash but most common is to have the money re-credited as bonus funds.
Stake Returned – Generally offered as a sign-up promotion for new customers, Stake Returned (sometimes called 'Free Money' or 'Bonus Balance') involves a bookmaker adding extra money to your balance after you first make a deposit.
Enhanced Odds – Usually based around a big sporting event, bookmakers will often enhance the odds on a fancied outcome to tempting prices in order to encourage new customers to sign-up and take advantage of the enhanced odds. These bets often come with a maximum amount you can bet and sometimes the money you win is paid out as free bets rather than cash.
No Deposit Free Bets – A rare type of free bet because they don't always require a deposit. These types of free bet are perfect in allowing a customer to test out a new bookmaker and – as the name suggests – means a bettor doesn't need to make a deposit before placing their first bet.
Incentives don't stop as soon as you've signed up! To reward your loyalty, bookmakers offer a range of offers to existing customers and here are a few of the most popular.
Money-back Specials – If you lose your stake then your bet will be refunded to you, most probably in the way of funds rather than cash. Money-back specials are perhaps the most popular free bets offered by bookmakers as they are risk-free.
Acca Insurance – Accumulators are extremely popular types of bets amongst sports fans, when you bundle a number of bets together for bigger odds. However, due to more outcomes needing to happen for your bet to win, bookmakers offer insurance in the form of a percentage of your stake back if your acca loses.
Loyalty Bets – For consistent betting with a bookmaker, that bookmaker may offer incentives in the form of free bets or enhanced odds simply to keep your business.
To ensure you pick the bookmaker that is right for you, we will be providing extensive reviews on all the bookmakers on Cricket Bet India, giving you up to date information on the latest offers and specials from each bookmaker.
This will ensure you feel safe with the bookmaker you choose to bet with and receive all the incentives for signing up with them. Our reviews are provided with experienced bettors and industry experts who have extensive experience of working with bookmakers who provide their views and ratings on the bookmakers that work with Cricket Bet India.
At Cricket Bet India we only work with trusted, licensed and regulated online sports betting sites, so you can rest easy that you are dealing with the best bookmakers around.
On Cricket Bet India you will find full coverage of all the different betting opportunities from the world's biggest bookmakers, all in one place.

Covering the Indian Premier League, Big Bash League, Pakistan Super League, World Test Championship, One-Day International World Cup, T20 World Cup and The Ashes and more.

You can bet on what are known as 'outright' results, such as winners/losers, highest run-scorers or wicket-takers, or more niche markets focused within individual matches.

Here are some of the most popular betting opportunities:
Outright winner
This type of bet is applied to tournaments, such as the IPL, BBL or Cricket World Cup. With this bet you select a team to be the winner of the tournament, not just a single match.
Series Winner
Similar to 'outright winner', this bet is applied to an entire series, such as The Ashes or another series between international teams. Here, you select the overall series winner, rather than the winner of just one match in the series.
Group Winner
You don't just have to bet on who will win a tournament outright! In tournaments such as the T20 World Cup, you can bet on who will win a particular group ahead of the knockout phase.
Top Batsman or Wicket-Taker
This bet can apply to a single match or to an entire tournament or series. In a single match, you can bet on which player you think will be the top batsman or wicket-taker in the match, therefore, which player will score the most runs or take the most wickets. Over a tournament or series, you can bet on who will score the most runs or take the most wickets throughout the entire tournament or series.
Team of Top Batsman or Wicket-Taker
Instead of selecting an individual player to be top run scorer or wicket-taker, you can select the team you think will have the top run scorer or wicket-taker.
Match Betting
Whereas 'outright winner' or 'series winner' is a long-term bet that applies to a whole tournament or series, match betting applies to one single match where you select which team will win or whether the match will end in a tie or a draw.
To Win the Toss
This is a 50-50 shot! Before a match, captains toss a coin to decide who will bat first or bowl first. Betting on who wins the toss is literally betting on who will call correctly.
Toss Combination
This bet adds an extra element to the bet on who will win the toss. Here you can lengthen the odds of your selection by adding what decision the winning captain will make when they win the toss. For example, 'India to win the toss and bat first' or 'England to win the toss and bowl first'.
Over/Under Scores
The bookmaker will provide selections on to what score a batting team will get and here you can bet on whether you think the team will score over or under that total.
First Innings Scores
Here you are betting on whether the first innings score will be odd or even. The odds for these types of bet are usually around 10/11 because they are 50/50.
Team Innings Runs
The objective is to correctly predict the number of runs a team will score in a given innings. This is often an over/under bet.
Highest Partnership
Here you are betting on which team you think will have the highest partnership in a particular match.
Player of the Match
A popular bet where you select an individual player to win the Player of the Match award for the most influential performance in any given game.
Century To Be Scored in the Match
Will a player from either team score 100 runs in the match? Odds for this bet are higher in the shorter formats such as a T20 or 50-over match, but will be shorter for a Test match where players have more time to score runs. You can also bet on individual players to score a century or a 50 in the match.
Most Match Sixes or Fours
This is simply a bet on which team will score the most boundaries in the match.
Total Match Sixes or Fours
Instead of betting on an individual side to score more boundaries than the other, this selection is the combined number of sixes or fours across both teams. Selections are often listed as over/under and can be listed for individual teams or players.
Most Run Outs
Simply to identify which team will have the most run outs during the match.
Match Bet
This bet pits two players on opposing teams against each other in terms of which player will score the most runs or take the most wickets. For example, Virat Kohli v Joe Root, which player will score the most runs in the match?
Best 'In-Play' Betting Opportunities
As well as betting prior to the match there are also plenty of in-play cricket betting opportunities, including runs off the next ball, method of next dismissal and over/under batsman runs.
Best Betting Sites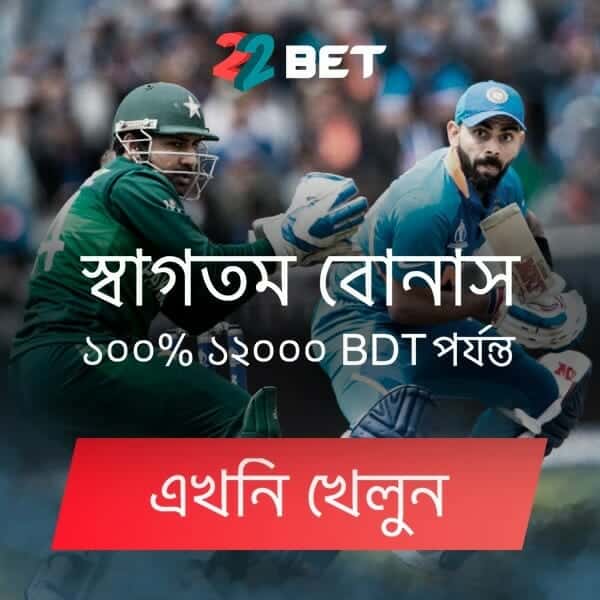 Best Betting Offers