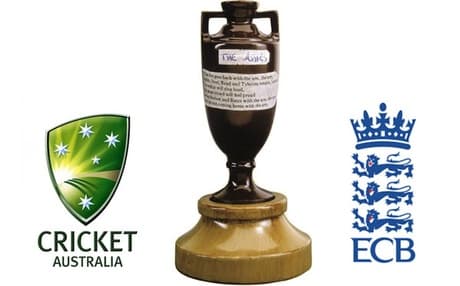 The best outright betting, the latest insights for every match from the series and predictions from industry experts for the Ashes, all in one place! From series winner to top run scorer and from player of the series to top wicket-taker, you can access the best tips as well as the latest bookmaker specials and sign-up offers from a selection of the best bookmakers in the world.
Cricket's oldest, most anticipated and fiercely contested rivalry in the world. The prize may only be a six inch tall terracotta urn but for English and Australian cricket fans it is the most sought-after trophy in the game.
Dating back to 1882, when England travelled to Australia for a four-match Test series which saw the two nations play out a 2-2 draw, the battle to regain or retain the Ashes has been foremost in the thoughts of English and Australian cricketers. Since then the two nations meet every two years to battle it out to earn over a five-Test series.
The early years of Ashes cricket saw England dominate with eight series wins in a row until Australia finally managed to get their hands on the urn following a 2-1 series win on home soil in 1892. The Bradman-era resulted in plenty of success for Australia with five series wins between 1934 and 1951 before his retirement enabled England to regain the Ashes in 1953. Between 1958 and 1986 the urn changed hands six times before Australia began an era of dominance in the 1990s which saw them equal the longest Ashes winning streak of eight series' in a row. Such was Australia's dominance, England only managed seven Test victories from 43 matches during that period, on two occasions, failing to take a Test victory from a series.
Over the years, Ashes series have provided some of cricket's most memorable moments. The Bodyline Series of 1932 and 1933 saw England devise the tactic of bowling at the body in an attempt to combat the dominant force that was Donald Bradman. The 1948 series in England saw Bradman's curtain call as cricketer with the legendary batsman and his team of 'invincibles' sweeping aside all before them on English soil. For English fans, two particular series will live long in the memory. Botham's Ashes in 1981 which saw all-rounder Ian Botham guide England to an astonishing Test victory at Headingley before he bludgeoned 118 in the fifth Test to set up a 103-run victory at Old Trafford which retained the Ashes for England. Perhaps the greatest series of all-time was the 2005 series in England. The dramatic 2-run victory for England at Edgbaston in the second Test before England's three-wicket win at Trent Bridge earned them a 2-1 series win, putting an end to Australia's 16-year Ashes dominance. The 2019 series also featured a moment that few English cricket fans will forget, as Ben Stokes scored 135 not out and put on a 73-run 10th wicket partnership to win a thrilling Test in front of a jubilant Headingley crowd.
When it comes to Ashes legends, only one man comes to mind, Sir Donald Bradman. The legendary Australian batsman, widely acknowledged as the greatest of all-time, played 37 Ashes Tests in his career and has racked up some records that are unlikely to ever be beaten. With over 5,000 Ashes runs to his name, the highest average in Ashes cricket, most runs in a series and more 100s than any other player, Bradman's exploits will go down in Ashes history.
With 335 Tests played to date, it is Australia that have picked up the most victories with 136, while England have managed 108 wins. But in terms of overall series results it could hardly be closer, with Australia managing 33 to England's 32, while the 2019 2-2 draw on English soil was just the sixth time a series has finished all square.
The next Ashes series is set to take place in Australia at the end of 2021 and through to January 2022 and it is expected to be as tightly contested as ever. Home advantage is often a huge factor in determining the destination of the urn with the 2010-11 series the last time an away team managed a series victory.
On home soil Australia are a tough side to beat, winning seven of the last eight Ashes series in front of their own fans including a 4-1 victory last time the teams met. Added to that, Australia have an 86% win rate on home soil, with England failing to win a single Test match in their ast three tours of Australia. Our prediction is for the number one Test team to retain the Ashes in 2021 and pick up back-to-back series wins for the first time since 2003. You could even go as far as bet on Australia to win the series 5-0, as they did in 2014 and 2007.
The battle to finish as the top run scorer in an Ashes series is always an intriguing contest. In the past, the likes of Alastair Cook (766 runs in 2010/11), David Gower (732 runs in 1985) and Michael Vaughan (633 runs in 2002/03) have picked up the accolade for England. For Australia, Steve Smith's 774 runs in the 2019 Ashes has been surpassed on just four occasions in Ashes history, though Smith can point to the fact he only played in four matches.
For the 2021/22 series, our prediction is for Steve Smith to once again be the top run scorer in the series, while England captain Joe Root is a good bet to be England's top run scorer, having so far scored 1,694 runs in his Ashes career, which includes three hundreds and 13 fifties.
As for the bowlers, some famous names reside at the top of the list of all-time wicket-takers in Ashes history. Legendary spin bowler Shane Warne's 195 between 1993 and 2005 is the most any bowler has managed in the history of the Ashes, with Ian Botham top of England's list of wicket-takers with 128. When it comes to current bowlers, England's Stuart Broad is seventh on the all-time list with 118, while spinner Nathan Lyon's 85 is the most of the Australian's still playing.
Our prediction for the 2021/22 series is for Australia's number one Test bowler Pat Cummins to be top wicket-taker – as he was for the 2019 series in England – while for the tourists we predict Jofra Archer to take the most wickets.
Team Records
Highest Innings Total – 903/7d (England v Australia, 1938)
Lowest Innings Total – 36 (Australia v England, 1902)
Highest Match Aggregate – 1,753 runs (Adelaide, 1921)
Lowest Match Aggregate – 291 runs (Lord's, 1888)
Largest Victory – Innings & 579 runs (England v Australia, 1938)
Smallest Victory – 2 runs (England v Australia, 2005)
Batting Records
Most Runs for Australia – 5,028 (Don Bradman)
Most Runs for England – 3,636 (Jack Hobbs)
Highest Individual Score – 364 (Len Hutton, England, 1938)
Highest Average – 89.78 (Don Bradman, Australia)
Most 100s – 19 (Don Bradman, Australia)
Most 50+ Scores – 31 (Don Bradman, Australia)
Most Ducks – 11 (Syd Gregory, Australia)
Most Runs in a Series – 974 (Don Bradman, Australia, 1930)
Highest Partnership – 451 (Don Bradman & Bill Ponsford, Australia, 1934)
Bowling Records
Most Wickets for Australia – 195 (Shane Warne)
Most Wickets for England – 128 (Ian Botham)
Best Bowling Figures in an Innings – 10/53 (Jim Laker, England, 1956)
Best Bowling Figures in a Match – 19/90 (Jim Laker, England, 1956)
Best Average – 13.01 (George Lohmann, England)
Best Economy Rate – 1.31 (William Attewell, England)
Best Strike Rate – 38.1 (Billy Bates, England)
Most 5-wicket Innings – 12 (Sydney Barnes, England)
Most 10-wicket Matches – 4 (Tom Richardson, England & Shane Warne, Australia)
Most Wickets in a Series – 46 (Jim Laker, England, 1956)
Wicket-keeping Records
Most Dismissals for Australia – 135 (Ian Healy)
Most Dismissals for England – 101 (Alan Knott)
Most Dismissals in an Innings – 6 (7 different players)
Most Dismissals in a Match – 9 (4 different players)
Most Dismissals in a Series – 29 (Brad Haddin, Australia, 2013)
Fielding Records
Most Catches for Australia – 51 (Alan Border)
Most Catches for England – 54 (Ian Botham)
Most Catches in an Innings – 4 (14 different players)
Most Catches in a Match – 7 (Greg Chappell, Australia)
Most Catches in a Series – 15 (Jack Gregory, Australia, 1920/21)