England's Cricketers: What football teams do they support?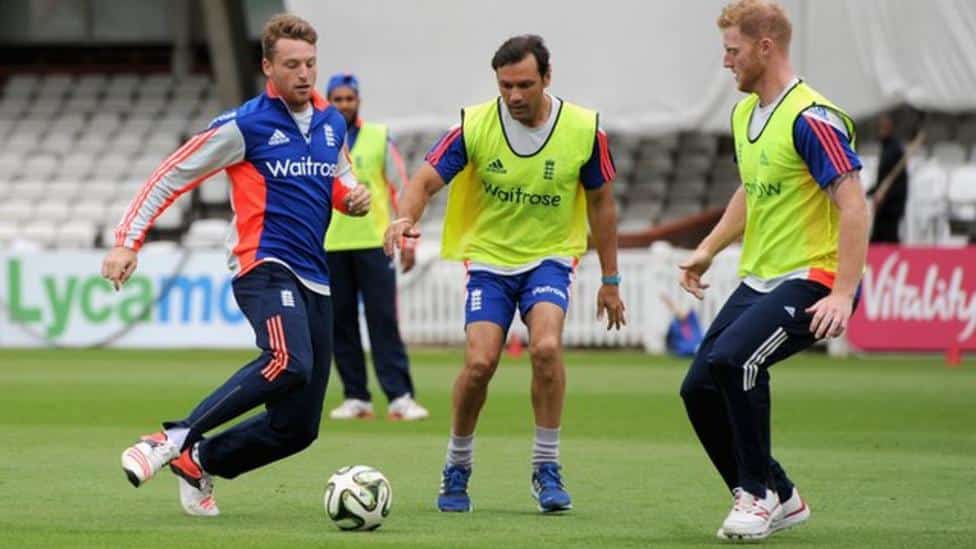 They may be some of the best players on the planet in their sport, but that doesn't stop England's cricketers from following every second of action of the football season with many of them huge football fans.
They were even recently banned from their traditional game of football on the morning of a day's play as a result of a succession of injuries suffered – often due to the seriousness in which they took their daily kick-about.
So which teams do the players support? Cricket Bet India has done some digging to find out…
Liverpool
Moeen Ali is recognised as one of the best players and biggest supporters in the England squad of recent years, and is a passionate Liverpool supporter. Such is his love for the recently-crowned Premier League champions, that Steven Gerrard delivered a video message on the occasion of Moeen's 100th one-day international cap to celebrate the achievement.
🧢 The moment Moeen Ali received his 100th ODI cap courtesy of a message from an @LFC legend! ⚽️ pic.twitter.com/c4CcGIwkEx

— England Cricket (@englandcricket) June 22, 2019
Manchester City
Former iconic all-rounder Andrew Flintoff admits to not being a huge football fan, but has been spotted several times sporting a Manchester City shirt rather than the colours of his local side Preston.
Chelsea
South African-born Kevin Pietersen adopted Chelsea as his team after moving to the UK 20 years ago. He has remained a dedicated fan in that time, eventually moving to the area and becoming close friends with Stamford Bridge legends Frank Lampard and John Terry while also passing on the support of the Blues down the family.
Manchester United
Jofra Archer is English cricket's latest superstar, having burst onto the scene in the World Cup win in 2019 and his performances in the subsequent Ashes series, and he has already developed a burgeoning friendship with United striker Marcus Rashford as a result of his love for the Red Devils. Archer is regularly tweeting about playing FIFA, and recently represented his side in the 'ePremier League', losing in the last 16.
When you wake up and realise you're a #CWC19 world champion… 🏏🏆

Incredible stuff, @JofraArcher — congratulations to you and @EnglandCricket! pic.twitter.com/LDJsKeQJOY

— Manchester United (@ManUtd) July 15, 2019
Tottenham
Ben Stokes admitted in 2019 that while he enjoyed following England's progress at international tournaments, he had never found a club to support. However following a stunning summer in which he played crucial roles in the World Cup win and drawn Ashes series, he was sent a personalised Spurs shirt by the club and was touched enough to adopt them as his club.
Never supported a club,always wanted to but never loved football enough really,my first ever football top was actually a Tottenham one,it was the blue and yellow kit with Thomson on the front. But after getting sent this I guess I'm now officially a Spurs fan @SpursOfficial #coys pic.twitter.com/VqaxgRSF9I

— Ben Stokes (@benstokes38) August 30, 2019
Burnley
Sean Dyche's side are not the most glamorous team in the Premier League, but they boast one of the most high-profile supporters in English cricket, with James Anderson a passionate fan. He has previously recounted fond memories of attending games at Turf Moor as a youngster and despite generally keeping a low profile online, regular updates his followers with updates.
Brilliant result!! 👏👏👏💜💙⚽️ https://t.co/WnkL876Vyb

— James Anderson (@jimmy9) February 3, 2018
Sheffield United
England's Test captain Joe Root has been a lifelong supporter of the Blades after growing up in Sheffield. Root is close to current manager Chris Wilder and sent him a congratulatory text upon promotion in the 2018-19 campaign, and has cited Phil Jagielka as a childhood hero along with other members of Neil Warnock's team such as Michael Brown and Michael Tonge.
Congratulations to Blades fan, Joe Root, on being awarded an MBE for services to cricket!

Well done, Joe 👏 pic.twitter.com/lSCrEXzA8q

— Sheffield United (@SheffieldUnited) December 28, 2019
Arsenal
Like many of the other big clubs, Arsenal have a lot of high-profile supporters with Rahul Dravid and KL Rahul among those to have visited the Emirates as fans. Nasser Hussain also counts himself a supporter – despite previous allegiances to Leeds United – while Monty Panesar is another to change sides having previously followed Luton Town but now counts himself as a Gunner.
Great result today come on @Arsenal top 4 finish!! #WATARS pic.twitter.com/zD7qndpwwW

— Monty Panesar (@MontyPanesar) April 15, 2019
Crystal Palace
Although not necessarily a fan of Crystal Palace, Joe Denly has visited the training ground on occasion to meet the squad and take part in a training session along with Sam Billings (a Manchester United fan). Despite being one of the players to suffer an injury in the pre-match game with the England squad, Denly is a talented player and was on the books of Charlton as a youngster.
Football has become a staple of a cricket warm-up, but @sambillings and @joed1986 took it to another level with a training session at @CPFC, while @JoelWard2 and Roy Hodgson visited the @KentCricket nets! ⚽️🏏

👉 https://t.co/sM4O5sAX9g pic.twitter.com/UDC8PNdORv

— ESPNcricinfo (@ESPNcricinfo) October 16, 2019
Everton
Every four years when the Ashes rolls around on home soil, it is not uncommon to see some of the visiting players turn up to indulge in a little Premier League action courtesy of sponsors. In 2019 it was the turn of Nathan Lyon and Peter Siddle – who has spent a lot of time in the UK – to visit Goodison Park, and they did not get a welcome reception when they walked out onto the pitch.
Also, Peter Siddle and Nathan Lyon, both wearing Everton scarves, announced on to the pitch at half time. Walked on a yard, everyone booed, they got off.

Best half time Goodison has ever seen, this. #EFC

— Dave Downie (@daviddownie17) September 1, 2019
Newcastle
Despite being an ardent Geordie, Mark Wood is surprisingly an AFC Wimbledon fan, leaving former off-spinner Graeme Swann as our main Newcastle supporter. Swann, whose family hail from Blyth in the north-east, has long been an outspoken supporter of the Magpies and cites Peter Beardsley as his favourite player.
At last the Toon have 3 points! Dilly Dilly to the boys #NUFC #ad pic.twitter.com/tcDYAOe1uq

— Graeme Swann (@Swannyg66) November 3, 2018
Watford
One of the bigger and more passionate football fans, former England fast bowler Steven Finn has never kept his support for the Hornets a secret. The Middlesex quick regularly tweets updates about his FIFA Ultimate Team, Football Manager career or his Fantasy Premier League progress and even earned the nickname 'The Watford Wall' during his England days.
What a day!!! 🥰🥰🥰🥰🥰🙌 https://t.co/WFNiSPVdnX

— Steven Finn (@finnysteve) February 29, 2020
West Ham
Another example of the hospitality enjoyed by touring Australia teams is this trip to the London Stadium for six of the Australians last year. Siddle is again in attendance – proving his affection for football – but also there are Steve Waugh, Mitchell Marsh, Tim Maine, Marcus Harris and James Pattinson, with the latter joining Siddle in the traditional 'Irons' salute.
Aston Villa
The all-rounder regarded by many as the 'nicest man in cricket', Chris Woakes, has stayed true to his roots with his support of Aston Villa. He regularly makes time for trips to Villa Park during the football season and recently had the chance to have a sit down with Villa captain Jack Grealish.
Norwich
While they may not be the most glamorous team in the Premier League, Norwich boast two of the most intimidating supporters in Tymal Mills and Olly Stone. Both are capable of generating speeds well in excess of 90mph with the cricket ball, and in their spare time enjoy following the Canaries.
We were unable to find prominent supporters of Leicester City, Wolves, Southampton, Brighton or Bournemouth. Do you know any cricketers that follow these sides? Get in touch and leave a comment!
Comments (4)